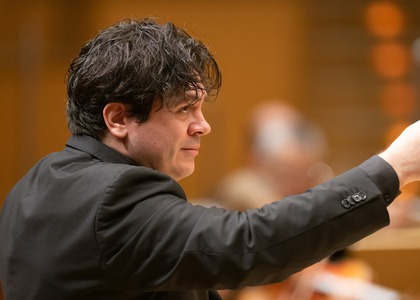 Interview with conductor Cristian MŃcelaru
Thursday, 16 March 2023 , ora 10.33

You're coming back to Timișoara in a very special context. I'm going to ask you to tell us not only about the concert you're conducting on the 14th of March with the WDR Orchestra K÷ln, but also about the rest of this unique project that you have planned.
Well, I wanted to make good use of this chance that we have this year with Timișoara as an European Capital of Culture and with coming here to perform with my orchestra from K÷ln on the 14th of March, we've decided to stay here and make a project with Banat's Philharmonicc in which the two groups will be together, at unison on the stage during Gustav Mahler's Symphony No. 3. And then, from Tuesday to Friday we'll have masterclasses with the student from University, there will be chamber music concerts. This is a little residency of the orchestra to have in Timișoara, so to say, so that we can celebrate together this meaningful year for us.

It is meaningful for Timișoara, and on the other hand, I understand that it has a particular meaning to your relationship with the K÷ln orchestra, because the "ARTE" channel has thought about marking this unique moment.
That's right. The concert is going to be broadcasted on the "ARTE" channel and also other TV channels, which will participate and gather to document this very beautiful project in which we can put aside the differences present between individuals and we can unite under the umbrella of this cultural event in which music brings us together. That's whyI believe that this event is an important one not only for Timișoara, but also for us, from the WDR Orchestra K÷ln because we understand its significance.
You should know that the orchestra is one which performed, for many years in Germany, thus contributing through charitable concerts in raising funds for Romania. I've have discovered this fact when I became the chief conductor of the orchestra, because there were members of it who told me this; that for many years they performed charitable concerts to raise funds especially for sending medical equipment for the Children Hospital in Timișoara, for the wards that needed it. So, in the end, the orchestra will arrive in Timișoara and they will be able to see the city for which they've been helping with items sent from abroad.

Beside the two monumental opuses of Johannes Brahms, you'll be also perfoming in premiere.
Yes, we're talking about Klaus Lang's composition- Caritas. I absolutely wanted to bring a contemporary composition because the orchestra promotes a lot the contemporary music. During the pandemic, WDR Symphony Orchestra K÷ln has ordered 13 new compositions from 13 different composers- compositions which we have named "Musik der Zeit", and because they are short in length we have also given them an unique name "Miniaturen der Zeit". That means that they are written today for the current time. This composition by Klaus Lang is the very last one bought, the one which will be performed in Timișoara. These 13 compositions were presented each month of the last season and now we finally came to present this composition in Timișoara.

From my understanding, this composition had been performed in premiere last week in K÷ln.
Yes. We had premiere concerts in Koln last Friday and Saturday, and the composer, Klaus Lang, was there with us. I had asked him if his composition was ever performed in Romania and he said that, as far as he's concerned, it wasn't.It is therefore the first time that the Romanian public can hear the composition of Klaus Lang live. Klaus Lang is a very praised and well-known composer, especially in Germany, and this composition is very beautiful, spiritual and I think that the public will understand right away what Klaus tried to convey.

Why Brahms?
We really wanted to bring something that lies in the orchestra's DNA; its identity being based upon German Romantic Music - hence Brahm's, Schumann's and Beethoven's music. That's why we chose Brahms. Itjustsp happened that wealready had a project in which we have recorded the two Piano Concertos by Johannes Brahms with Simon Trpceski, who will be present in Timișoara, and I thought thatthis is a very nice program we can present because we wanted to come with what we do best so that the audience in Timisoara has the opportunity to hear an important German orchestra playing Johannes Brahms' music.

You are back on the Capitol stage in Timisoara. I know it has been renovated. How is this return from, let us call it, yourprime, compared to this, when you come here fully matured ... and when you have just a little more and you are celebrating your birthday on stage!
It's true. First of all, as always, returning home involvesmany emotions and it's full of very vivid and very strong feelings, because I know every corner of this Capitol stageso well. I've grew up in Timisoara and as a audience member I was present at a lot of concerts and as of today, being on stage is a very different feeling, but at the same time it is also a good time for us to be contributing to the city's agenda in this meaningful year for its cultural life. And for me personally, what I want is that what lies behind this cultural year to stay a more important cultural context for Timișoara, a cultural footprint that will push the city and the society even further, because I really believe that through culture and art, we can transform the society we live in.
Interview by Anca Ioana Andriescu
Translated by Georgiana Morozii,
University of Bucharest, Faculty of Foreign Languages and Literatures, MTTLC, year I
Corrected by Silvia Petrescu