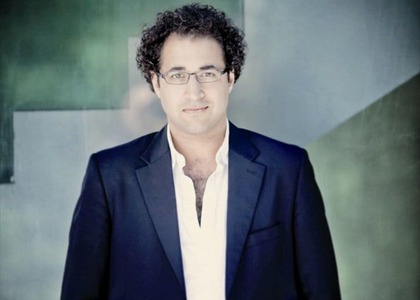 Interview with conductor Leo Hussain
Thursday, 16 March 2023 , ora 10.40

How do you find working with the Universitaria Orchestra of the National University of Music in Bucharest? Is a student orchestra more responsive than the professional ensembles you conduct?
I really enjoy working with this orchestra. The students bring a different energy to the rehearsal room, even if problems that require more time to studyarise. As a conductor of a professional orchestra, you're used to explaining musical ideas and the musicians having to find the technical means to realise them, and sometimes with students it's necessary to go into more detail. It's also very important for young musicians to learn these things, because in a certain sense playing in an orchestra is different from playing chamber music. Often you have to translate the words the conductor says into instrumental means. An example: if the conductor says "I'd like it to sound like a block of ice", then as a musician in the orchestra you have to translate what that means technically. At the same time it's a very good exercise for me too, because I have to explain it to myself first and then to the orchestra. But yes, they are a great ensemble, very open musicians, very talented, and they start to like to sound like an orchestra. One of the most important things that music universities do is that they train students to become professionals. Just because you can play an instrument well, doesn't mean you'll perform well and know how to handle the specific demands of a professional orchestra. That's why it's a very useful experience for them.

For the opening concert of the Chei Festival, which you are performing at the Romanian Athenaeum, you have chosen Ligeti's Romanian Concerto, Mozart's Symphony No 41 Jupiter and Sibelius' Sad Waltz. What were the criteria for choosing this programme?
It's more of a programme I chose to help students gain experience. Mozart's Jupiter Symphony is one of his best written symphonies. The symphonic moments alternate with others, typical of a chamber ensemble, in terms of attention to the articulation of phrases or dialogue between different parts. All musicians should play Mozart every week: it's good for us as professionals, but it's also good for the soul. Mozart is the composer who speaks to us about the human condition and shows us what it means to be human. In Ligeti's Romanian Concerto I wanted to see how students express themselves in music that is familiar to them. At first glance, the score seems easy, but it is not. I have conducted this work many times, but never with a Romanian orchestra, and especially never with a student orchestra. Indeed, I wanted to see how they played it and was surprised to see how naturally they did it. In my experience, this work is also a challenge for professional orchestras. But fortunately, as I had hoped, the students have a very good feel for it. Sibelius's Sad Waltz is a piece I like. I think it's very good for the opening of the concert because it's contemplative, it goes through a lot of emotions, and that makes the students feel the rhythm and feel comfortable playing together. I think it's appropriate for them as well as for our concert. The University Orchestra plays Sibelius' score very beautifully, and I am very happy about that.
Interview by Constantin Fănel
Translated by Andreea Grințescu,
University of Bucharest, Faculty of Foreign Languages and Literatures, MTTLC, year II
Corrected by Silvia Petrescu