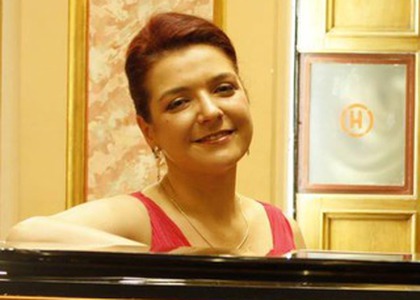 Interview with Ioana Stănescu about the Youth International tour
Monday, 27 March 2023 , ora 13.32

The first edition of the "Youth International Musical Performance Meeting" tour began on Monday, in Iași, and it is set to continue with a recital in the Small Hall of the Romanian Athenaeum on Wednesday, March 22nd, followed by events taking place in Brașov, Padova, Rome and Palermo. We are going to find out more details about the recital series from the project coordinator, Ioana Stănescu, university lecturer at the Iași National Art University "George Enescu" .

Where did this tour idea come from?
This idea came from the desire to broaden the horizons of my students, of my institution and also those of my piano class. This idea has at its basis a unique concept, given its format, that of offering the chance to reunite different interpretative representations of students that come from international academic institutions, such as the "Cesare Pollini" Conservatory from Padova and the "Alessandro Scarlatti" Conservatory from Palermo, together with the students from the "George Enescu" Art University from Iași, the organizing institution. I truly believe in the potential of these young interpreters. I believe in their potential to produce an energetic exchange that is going to produce a truly creative and artistic shared representation.

The tour has had its debut in Iași.
Indeed, on March 20th at the "Caudella" Hall within the "George Enescu" Art University from Iași. On March 21st we will be able to see the young interpreters performing at the Palace of Culture, which is also from Iași. Further, I would like to offer my thanks to all collaborating institutions, and also to the Romanian Athenaeum from Bucharest, which was incredibly willing to assist this project and to offer the delightful chance to young interpreters to sing on the stage of such an institution. The concert will take place on Wednesday, March 22nd, when we gladly invite you to join us. You will find different interpretations, most of them of young pianists, but a part of them will accompany their canto colleagues, and also their cello ones.

You will be continuing the tour in Brașov, Padova, Rome and Palermo.
The tour will continue starting with Friday, at the "Transilvania" University from Brașov, on March 24, and then we will be crossing the border with two recitals in Padova, where we were met with extraordinary openness to make this project a reality. They searched for unique halls at the Padova Conservatory, but also, the manager of the Ritz hotel has been extremely open to welcoming these young performers inside their music hall. Moreover, another extremely receptive collaborating institution has been Accademia di Romania from Rome, the Romanian Cultural Institute from Rome, which has also assisted their performance. The tour will meet its finale in early April, on the 5th and 6th, together with the concerts that will take place at the Palermo Conservatory.

I would like you to tell us a little about the reaction of the young students upon hearing about the idea of the tour.
I was truly glad to see that not only our university's students and the ones that came from my piano class were extremely open, but also the students from Italy, who were very enthusiastic and delighted at the idea. I filled my whole being with their joy and I realized that it is worth to fight for such a project and to be able to offer young artists the chance to interact with one another, to be able to experience a cultural and artistic exchange, and it is their chance to create together unique moments for the music loving public. The program is extremely diverse, being comprised of Bach, Liszt, Chopin, Janáèek and Rossini. It is a program that will definitely delight the public and will provide the diversity needed to attract them to the concert hall. Actually, I found myself asking them if they ever had an Erasmus project and they said no. This unique format, where three academic institutions are collaborating with one another in order to make this happen at an administrative level, which is linked to bureaucracy, to make their stage encounter possible, within this tour with nine recitals, has been an exceptional effort on our part as organisers, but also a greater delight upon seeing their enthusiasm and the utter joy of seeing themselves on the stage together with other Romanian colleagues.
Interview by Petre Fugaciu
Translated by Adelina-Maria Mănăilescu,
University of Bucharest, Faculty of Foreign Languages and Literatures, MTTLC, year I
Corrected by Silvia Petrescu