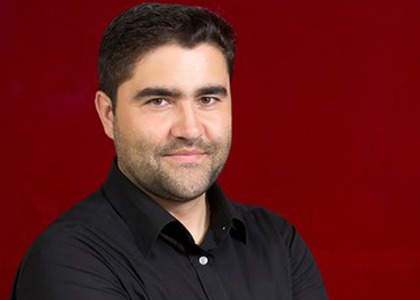 Interview with tenor Florin Guzgă
Wednesday, 29 March 2023 , ora 13.07

Florin Guzgă, you are facing an important debut role, the role is Manrico, the opera Il Trovatore by Verdi, and the new production is signed by the Italian director Matteo Mazzoni. Are you excited?
Yes, I'd be lying if I say I'am not excited. The emotions are present also when it comes about the roles that I take on with joy every time and that I know very well and sing with pleasure, but especially when it comes to a debut in a new production.

So extra emotions, this time.
Certainly, but hopefully constructive ones.

Why do you sustain now the debut in Manrico? What does it represent for your career? You are 37 years old.
It means a challenge that I have accepted and that I hope God will help me to fulfill well.

Who proposed this debut of yours or did you propose by yourself?
I didn't propose it myself. If it was up to me, it wouldn't have come right now, this debut, but maestro David Crescenzi proposed this role to me when I worked for the first time with his lordship at the Masquerade Ball, I think a year ago. I sang in the concert version of Masked Ball and then he told me to take into consideration Manrico's role as well. Initially I refused, I said no, I'll wait, and he said: Florin, look at the score and when I come to Iași, next time we'll study together and then after that you'll tell me if you do it or not, but I see a potential that you can do this role very well. I thought about it, exactly 10 years ago, because my absolute debut took place in March, it was the first time I set a foot on a stage as an opera soloist. It was also with a Verdi role and also under the guidance of maestro David Crescenzi.

What was the role?
The Duke of Mantua from Rigoletto, also an extremely difficult role, especially for a debut, but under the maestro's guidance I had total confidence in him and of course also in my canto maestro, with whom I keep in touch and from whom I receive everytime the best advice in my artistic journey and often gives me the best solutions from a technical, vocal point of view. They mentored me and it was a success. It was a good start to my career and I said: now, 10 years later, I can also take into consideration a more complex score, more demanding I would say.

Categorical. It is therefore an important step added to those already done, you said, for 10 years now, with roles such as the Duke of Mantua, Alfredo from La Traviata, you also did Rodolfo, many shows, Nemorino.
Edgardo was also a challenge, because when I was thinking about doing this role, I received all kinds of opinions from my acquaintances, friends, teachers. Some told me that I should have a more dramatic voice for Edgardo, others told me that I should be much more lyrical, more relaxed, thinking about that final scene where there is that ungrateful fabric for any tenor voice, I would say, and then I chose to accept to enter this role taking the advice of maestro Vasile Moldoveanu.

Returning to Manrico's role, it is really a role that requires extremely incisive, very well set acutes. Also a real dramatic expression at times. It is a typical spinto tenor role and one of the most anticipated solo moments of the opera is contained in Manrico's romance and cabaletta in Act III, Cabaletta di quellapira, with its famous contrados, not actually written in the score, but by tradition absolutely mandatory. I want to ask you, will you sing the untransposed aria, that is usually sung through a lower tone .
By a semitone most of the time. We will not perform in Iasi the original version, as it is written. That's what we've been repeating till now. I haven't factored in transposition yet. He really is a hero, a warrior, especially in our setting, where Matteo Mazzoni figured the action exactly like in the middle ages, in a world full of harshness, where men were always with their hands on their swords and then moreover, the temptation is to be more heroic than you actually are. Or the key, in my opinion, is to manage to find my composure and self-control even in those moments when the score challenges you to push your limits.

Do you have a favorite performer for Manrico?
The one who remains the reference for Manrico, in my opinion, is undoubtedly Franco Corelli
Interview by Luminița Arvunescu
Translated by Denisa Cincă,
University of Bucharest, Faculty of Foreign Languages and Literatures, MTTLC, year I
Corrected by Silvia Petrescu