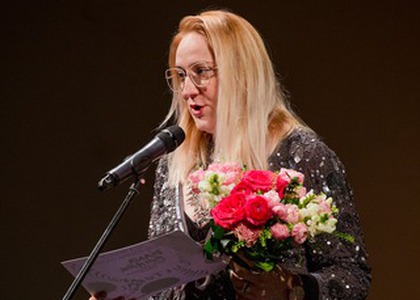 Interview with Diana Rotaru, artistic director of the Meridian International Festival
Thursday, 6 April 2023 , ora 11.20

On Monday, April 3rd, starting at 6 p.m., the Odeon Theatre hosted the 12th edition of the Radio România Cultural Awards Gala. The most important Romanian cultural projects from the year 2022 were rewarded. The prize in the Music Category went to the composer Diana Rotaru, for the Meridian International Festival.
In this context, we have Diana Rotaru live by phone this morning, on Radio România Muzical's morning show. Good morning and congratulations on this award!
First of all, I would like you to tell us what this award means to you and how did you feel about receiving this award for a festival that is not easy to organize and which wants to bring new music into the spotlight?
Good morning and thank you for the invitation!
As I said last night, the Meridian Festival means a whole team. I was there only as a representative who received the diploma. We are all extremely proud, extremely happy. It is a great honor and a sign that what we are doing is good.
We took over the management of the Meridian Festival in 2019 and tried and are still trying to give it an identity, we believe, unique in Romania by choosing a different theme every year, at every edition, but under a very strong metaphorical umbrella, to coordinate and organize very clearly for the public all the events of the festival.
In 2019, the theme was "Grădini sonore". In 2021, the theme was "Planetarium" - we built an imaginary cosmos. And the 2022 edition...

... was titled, suggestively, "Atlas".
Exactly. And we had concerts in many cities in Romania and it "matched" with the centenary that the International Society for Contemporary Music celebrated under the big umbrella under which we are also with this event.

That is exactly what I wanted to ask you. What did that November week dedicated to a wide variety of events promoting new music from Romania and the whole world, suggestively titled "Atlas" have to say? You told us a part. But what can you tell us about the 2023 edition of the Meridian International Festival? I suspect that it will also take place in November and that it will be just as complex in its manifestations.
We invite you! It will take place between November 5th and 12th. The theme will be "The Persona - the Mask in all its Aspects and Roles". I do not want to divulge the invitations, but we will come with an announcement soon. We again have valuable guests from abroad, from Romania.

From abroad... what countries are participating or you do not know yet? I cannot get anything from you!
I also wanted to thank some institutions that support this festival. First of all, the Union of Romanian Composers and Musicologists. Practically, the Meridian Festival, for 18 editions already, is under the UCMR umbrella and we thank this institution very much. And we have many partners who helped us to realize this festival, but I must mention, first of all, the Bucharest National University of Music, which is a kind of epicenter of new music at the moment, even from all over the country. They have an absolutely phenomenal openness to the newest creations and especially to the younger generation, and I find it admirable and we thank them for everything.

Finally, as a conclusion, we are glad that good quality new music is becoming more and more visible in the public space. I also emphasize this through the festival dedicated to young creators of choral music, which just took place at the Bucharest National University of Music. Let's not forget the International New Music Week and, of course, the Meridian Festival - Radio România Muzical being the media partner for all these events.
I would like you to share some thoughts about this new music in general and the Meridian Festival in particular. Why is new music necessary in our lives?
Music in general is very necessary. Music is a tool of direct communication with the soul. What we are trying to demonstrate through the Meridian Festival and other events is that the prejudice that contemporary music is accessible only to the initiated or only to the "elite" is false, and we are many creators who are extremely concerned with communicating as directly and as honestly as possible with the audience. And the diversity of events that we try to schedule I think is a plus point to demonstrate the phenomenal variety of currents and styles that exist today.
So as long as the ears and soul are wide open, I think we can make it.

We could say that new music has a special message, in tune with our days, right?
Yes. Being made by the youngest generations now living in our society, it is practically the music of today. It is today's music. It is our mirror.

Thank you very much for your presence in the Radio România Muzical morning show and, once again, congratulations for the award received at the Radio România Cultural Gala, to you and the whole team!
Thank you a lot!

Photo credit: Alexandru Dolea
Interview by Liviu Pețu
Translated by Elena Patricia Măroiu,
University of Bucharest, Faculty of Foreign Languages and Literatures, MTTLC, year II
Corrected by Silvia Petrescu