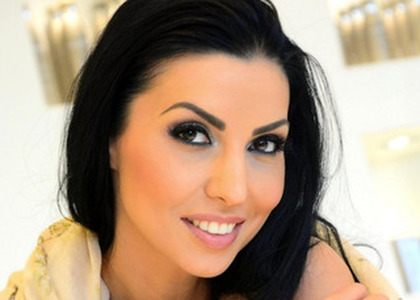 Interview with mezzosoprano Ramona Zaharia
Monday, 10 April 2023 , ora 11.09

On the Holy Thursday a vocal-symphonic concert will be held, one in which Giuseppe Verdi's Requiem would be performed. The quartet is made up of soloist soprano Cellia Costea, mezzosoprano Ramona Zaharia, baritone Ovidiul Purcel and bass Gelu Dobrea. Conductng Orchestra Națională Radio and Corul Academic Radiois conductor David Crescenzi (tutored by CirpianȚutu)
This inverview with mezzosoprano Ramona Zaharia has the concert from April 13th in foreground.

Next week you'll be on the Sala Radio's stage for interpreting Verdi's Requiem. A couple of years ago you said in an interview that you're considering on a repertoire path which included the Verdian axis "Messa da requiem"-Eboli from "Don Carlo and Amneris from "Aida". Meanwhile, you have debuted with all the aforementioned titles and you are now preparing for performance with "Aida" in Iași, with conductor Crescenzi in the lead. What do you think now, in retrospective, about this repertoire path?
I believe that it was for the best to start off with "Messa da requiem", followed by "Eboli and Amneris". This path was perfect because I gained much with every role that I learned. I consider the alto part from "Messa da requiem" as a role; it also is the greatest "non-opera like" musical setting of Verdi, but it's still like an opera. I consider my path being a very good one.

What does the soloistic part represent to you, when talking about Verdi's Requiem? And what do you think of its interpretation, given the fact that it's going to be performed on the Holy Thursday?
I don't see it as something religious. It was, however, composed to comemorate the death of Alessandro Manzoni, who was regarded as Goethe or Voltaire in Italy. He was considered a hero. He was a poet, novelist, a play writer and he meant a lot for the Italian people, in terms of patriotism. Therefore, I consider the composition as being written for comemorating a hero. This alto role from "Messa da requiem" it's still a role and I see it that way, as if I were performing "Amneris" or Eboli that night.
"Messa da requiem" has always been for me like a return to everything that I find beautiful in Verdi, to the essence of his vocal composing talent and this is what I feel when I'm performing "Messa da requiem".

What do you consider being the main moments in the activity you have performed so far this year?
There were many such moments. A very important one for my career will take place on May 27 - debut in "Hérodiade" by Massenet, a very difficult role.

Where will this debut take place?
It will take place on the stage of the Dusseldorf Opera House, Deutsche Oper am Rhein. It is a demanding role for mezzosoprano, it is almost like soprano 2. I'm nevours, but at the same time, learning the role, I am very excited to performit and I hope it will be the way I want it, because I can say that I am my toughestcritic.

And If I'm not mistaken, this role is also part of a carefully prepared track that you created.
Indeed. I mean, when I accepted it, I thought a lot beforehand. I know I made the right decision at the right time in my career.

What specifically is different about this score for you?
It has very high notes and this means that you have to have a really good vocal technique. Throughout our life we gain, laying yet another brick on our vocal technique's foundation, we try to make it better and better. We learn all the time, all musicians actually do.

After this moment which will take place on May, what other moments, that you consider worth mentioning, are going to take place until the end of this year, even though they include the first part of the next season?
There will be a few more "Carmen" (Georges Bizet) performances in France. In Prague, I will perform "Carmen" again. Immediately after, I will leave for Covent Garden, for a replay of "Rigoletto" - a premiere that I had together with master Antonio Pappano, which, from my understanding also exists in movie theaters, but I have not yet seen it.I will depart from Covent Garden to Teatro Real for the role ofMagdalena, which is following me throughout my career.
There will be a few more proposals. A new role might be Isabela in "L'italiana in Algeri". There will be more challenges, but for now, that's all. This is the shortest period. I hope that maybe a long-time dream of mine, that of directing, will happen. But that's it for now. I will come back with details.

I can't wait to hear from you when this new position comes.
Let's hope that it will happen the next season, in Romania.
Interview by Florica Jalbă
Translated by Georgiana Morozii,
University of Bucharest, Faculty of Foreign Languages and Literatures, MTTLC, year I
Corrected by Silvia Petrescu