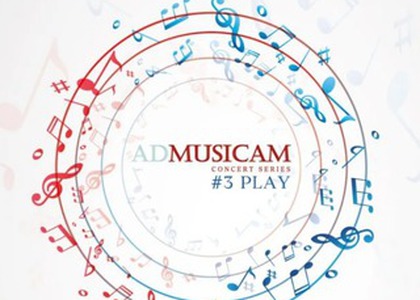 Interview with Irina Iacob, coordinator of project AdMusicam
Tuesday, 2 May 2023 , ora 10.18

The AdMusicam Concert series comes back with two events in May and June, which will be taking place at the Șuțu Palace in Bucharest. Irina Iacob, the project's coordinator, offered us her opinions about the first concert of the series, which took place on April 25th, 2023, but also about the new edition of AdMusicam of next summer.

On April 25th, there wasa concert within the project #ADMUSICAM Concert Series. Could you share with us some of your views about the concert of former participants of the program #ADMUSICAM?
It was a delight for us to be able to organize this concert, and for them to participate, since this is a rerun of a concert series started in 2017, interrupted by the pandemic, and it is the first of a series of three, which will be taking place at the Șuțu Palace this spring. The program included four quartets by Mozart, Mahler and Grigoriu. The interpreters were former participants from the #ADMUSICAM program; Daniela Tudor on the violin, Răzvan Uțubăr - violin, Marius Nițu - viola, Teodora Iliescu - flute and Ina Creciun - piano. Likewise, the artistic coordination was provided by Theodor Andreescu, who had been a member of EUYO for three years, at present being a member of the National Radio Orchestra and a concertmaster for the Romanian National Symphonic Orchestra. We are also truly delighted to have Constantin Borodin as a guest, him being the winner of the last edition of the International Contest George Enescu (the 2022 edition, on the cello).

Could you tell us more about the next two concerts within this series?
The next concert will also be taking place on a Tuesday, at the Șuțu Palace, on May 23rd, the following one being scheduled around the 20th as well.There will be more details about the program and theparticipants soon.

We are aware that you are preparing a new edition of the#ADMUSICAM program for next summer. Overall, what is the new edition going to look like?
In early June, as it has been the case almost every year, we are going to hold an edition of the #ADMUSICAM training program, which will also be taking place at the Cultural Centre Brâncovenești Palaces in Mogoșoaia, which has been our partner since we started this project. We are going to host the usual preparation sections for the auditions, for the orchestra, for social media, and, of course, a few surprises. Moreover, we are glad that after three years of hiatus, Peter Park, who is the rehearsal conductor of EUYO will be coming back for this program.

Who is this program for?
This program is for Romanian musicians with ages between 16 and 25. Registrations will be open for about a month, and so I ask those that are interested to follow the Romanian Cultural Institute site, www.icr.ro, for more details about registration.
Interview by Alexandra Scumpu
Translated by Adelina-Maria Mănăilescu,
University of Bucharest, Faculty of Foreign Languages and Literatures, MTTLC, year I
Corrected by Silvia Petrescu