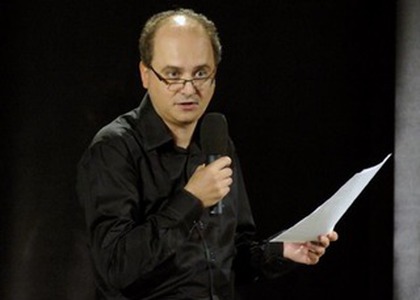 Interview with composer Dan Dediu, president of UCMR (Composers's Copyright Association)
Wednesday, 10 May 2023 , ora 10.36

Mr. Dan Dediu, the Gala of the Union of Composers and Musicologists of Romania will not only be an awards ceremony, but also a true spectacle that will showcase the diversity of interests within the realm of Romanian composition, and at the same time, the first festive event organized by the Union since you took over the mandate of president. I would kindly ask you to discuss the significance and symbols of this gala in the opening of our conversation.
Indeed, you are absolutely right! This is a first, because up until now, the Awards of the Union of Composers and Musicologists were granted in the beautiful Aula of the Cantacuzino Palace on Victoriei Avenue. However, as it is known, the Palace has undergone consolidation, and we have temporarily relocated elsewhere, which led us to feel the need to gather together with all our music-loving audience and make this effort (because it is indeed an effort) with the help of our performer friends. And here I am talking about the Representative Music of the Ministry of National Defense, the Children's Choir of the Radio, the duo of Nadia Trohin and Mircea Tiberian, and last but not least, an emblematic ensemble in contemporary times, Flaut Power led by Ion Bogdan Ștefănescu.
I must point out here that venerable institutions from our country have immediately come to our aid - such as Radio România, the National University of Music in Bucharest, and the National Opera in Bucharest, which generously provided us with the venue. In this context, the role of General Director Daniel Jinga must be emphasized; he tries to bring Romanian music to the opera halls with each event. Also, since you were talking about symbols and significance... another aspect is that all sections of the Union of Composers and Musicologists are united, regardless of the musical aesthetics or genre they approach. And let's not forget, this is not just a gala for composers, but also for musicologists, as we award volumes on historiography, musicological systematics, and journalism.
So, we have a wide range of awardees. Some of them are prominent personalities in Romanian musical culture; others are young talents who, through the vote of members from each section, have found themselves in the position of being awarded.
We hope that this show will be a good omen. In any case, together with my colleague, the Vice President of the Union, Nicolae Gheorghiță, we have designed a concise artistic program - precisely targeted, as I may put it - and here we are in the presence of a festive awards gala that is somewhat atypical compared to what is customary in Romania. Namely, without nominations. The nominations were made within the sections of the Union - here we only have the awarding of prizes and musical moments that separate the awarded sections and musical genres.
Important personalities of Romanian musical culture will be on stage, and I hope that this first event in the form of a show will continue in the coming years as well.

Regarding this gala, any spectator would likely have their thoughts turn towards the already traditional UNITER Awards Gala...
Clearly, everyone relates to that, as it is paradigmatic.

Is this association wrong, or do you believe that the UCMR Gala is a welcome and necessary celebration of Romanian music's success in the current cultural context?
The UNITER Gala has a great tradition, also linked to the name of the great actor Ion Caramitru. We don't even want to differentiate ourselves too much; anyway, we differ because we don't have nominations. The suspense is there, but in a different form. On the other hand, the format of our gala is not centered on the figure of a leader; instead, each secretary of the sections - we have 7 sections and 2 subsections - will present their own awardees; as they voted for them and bear full responsibility.
And there is one more thing. We learn from mistakes, we also learn from the suggestions we will receive, and I believe that at some point, the UCMR Gala in the form of a show will find its own format, its own path, just like a stream that flows and eventually finds its course. There's no need to imitate other galas, but surely a gala is somewhat equivalent to a rite of passage. Because an award is a form of cultural validation that professionals give to professionals, and this is not a small thing, it is an element that our union has gone through. Here it is, the 52nd awarding of the Union's prizes, which began in 1957, and this time it takes the form of a show.
We hope that more ideas will come to us, and the upcoming UCMR Awards galas in the following years will become increasingly complex and spectacular.

As the end of the first year in which you, Mr. Dan Dediu, led the UCMR is approaching... How has this year been, Mr. Dan Dediu? Was it a difficult year?
I cannot say it was easy, to put it euphemistically. It was a year in which we learned a lot, encountered many obscurities and misunderstandings. On the other hand, we tried to calmly resolve them with my colleagues, to focus on our work, and to do things the way we know best. Sometimes, things accumulate in depth, like in an hourglass; people do not see them enough, but they are there, and at some point, that mound of sand gathered from a tiny stream that flows every day will be seen. Because, working on the principle of a termite mound - as Mircea Cărtărescu said, it accumulates. And we have also accumulated experience and elements that will help us in the future. For instance, our library. We have a library of over 100 years, with manuscripts, scores, sheet music... These things are not visible, but without them, Romanian musical culture would be infinitely poorer.

It's already visible! I saw a new and very fresh website, with lots of information…
I'm glad you're saying that because we worked hard on it. We worked for 5 months on the website to make it transparent, easy to navigate on, with up-to-date information, and of course, it can still be improved.

Thank you very much, Mr. Dan Dediu, and best of luck!
Interview by Monica Isăcescu
Translated by Ioana Negrea,
University of Bucharest, Faculty of Foreign Languages and Literatures, MTTLC, year II
Corrected by Silvia Petrescu