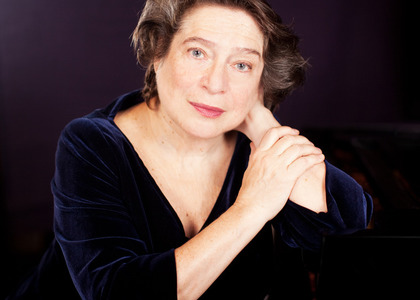 An interview with pianist Elisabeth Leonskaja
Thursday, 23 January 2020 , ora 14.06

Elisabeth Leonskaja received Lifetime Achievement Award in 2020, anounced on the 21st of January the Jury of ICMA Prizes. "Elisabeth Leonskaja is one of those rare musicians who seem to transcend their time: she is a performer for the ages, and one of the last of the great Russian school, an immense artist whose intellectually superior humility in the face of music has made her universal reputation. Her recent recordings of the Schubert Sonatas - so vivid and so crisp - show that she is not repeating earlier interpretations but continuously refreshes her approach to the great repertoire." - this is the motivation of the jury, Radio România Muzical being part starting December 2018. Elisabeth Leonskaja by herself undeline her special bond with Romania.
We were honoured to observe that whenever you're speaking about Romania, the George Enescu Festival, and the people here, you do it with a particular fondness. Do you feel related to these places?
Of course, I do, mostly because my life as a professional artist started here. I was 18 years old when I came to Romania and received my first award. It'd opened all the possibilities. First of all, at that time, I hadn't been admitted to the Moscow Conservatory yet. And by winning this award, I was accepted without any exam. It was also the time when concerts started in my professional activity. Why am I returning to this city? I consider the George Enescu International Festival to be one of the most delightful and humane festivals. I've never seen such a festival organized for people specifically for the people and not a social live where people come to show off. However, it's quite impressive the way the audience here is listening to the music, the way these hearts open towards an absolute perception of music and the purest parts of it.

Pianists, unlike the rest of the musicians, cannot carry their instruments when they have a recital or a concert. You've played lots of pianos, and, probably, you have specific preferences regarding the timbre and the "hardness" of the keyboard. What kind of pianos do you prefer?
Nowadays, Steinway & Sons is, anyway, the best instrument. It can also be understood from a historical point of view. After the great war, when almost all the piano factories, especially those in Germany, stopped working because they had been bombed, Steinway & Sons hadn't stopped producing. That's why they have, at least, 20-30 years of extra experience on the world stage. This, too, matters a lot. Admittedly, there are beautiful instruments besides them. The old pianos, for example, are astounding but they will not cope with big concert halls. But I can tell you that Fazioli, even if they're making a minimal number of instruments, has some wonderful models. Yamaha is taking its work very seriously. Maybe they don't ship the best models to Europe, but when I was in Japan, I'd played excellent instruments.

On what piano do you usually study?
It doesn't matter to me. I was wondering what piano is my good friend, whom I've known since Conservatory - RaduLupu is studying on. After that, I understood that he's, in fact, a genuine musician, he doesn't care what piano he's studying on. I have a little Yamaha and Steinway at home, but it doesn't matter to me. Now I can study even on a good electric piano, in case I don't find anything else, especially to scan through the score. At this moment, I can study, and I repeat myself, I can study (because I'm incredibly pretentious at concerts) on any instrument.

How much time per day do you spend in front of the piano?
A lot of time, whenever there's a new score because I learn very slowly. I'm memorizing slowly, maybe because I'm trying to think from the beginning what kind of music I'm playing. That's why the first step is very time-consuming. It upsets me a lot, but there's nothing to be done here. And the moment I begin to master this first step, the instrument is no longer needed.

In a previous interview, you mentioned the fact that conductor SándorVégh had said about Sviatoslav Richter - the pianist that has always been so intimate to your heart - that he messed-up like the big ones do. What does it mean to mess-up when you reach such a high level of performance like Richter's or yours? Do you ever happen to fail?
I can answer this question with a short Russian proverb. I'll explain what I mean by it afterward. There are spots even on the sun. Mistakes do not necessarily mean flat notes. It was told that Beethoven had never been upset by his pupils when they sang a flat note. He used to say that this thing is an occurrence. To mistake the composer's style, to misread the score, that which is hidden in it - those are the real mistakes. And Richter had never committed such errors.

Do you recall a special moment that you had experienced near Richter?
There were plentiful and various moments. There were a lot of moments that had joined together in a single thing. If I were to define it in a word, it'd be light, luminous.

During your activity - because you've told that you don't like the word career - you've dealt with grand piano opuses. Have you ever been interested in overcoming the classical genre, in interpreting, for instance, contemporary music for prepared piano, jazz, or movie scores?
No, I don't think that I have the necessary abilities, nor did I have time to practice it.

Naturally, the grand piano opuses appearing in your repertoire have known other essential interpretations. Have there been pianists throughout the time with whose sensibility you've resonated?
Yes, of course. I've told you about pianist Radu Lupu. We don't see each other quite often, but our friendship is a substantial one. I'd met him immediately after my coming to Moscow, after the contest. He'd been studying there too. Since then, we've been sharing a beautiful friendship. Of course, I do have other friends. I have a profound respect for my pianist colleagues, and I'm always open to new friendships and the exchange of new experiences.

When you're composing a new musical piece, do you link it with a scenario, a story?
Not always. Indeed, there appear some parallels. If you perceive the music formally, then it's called academism. It's gorgeous, it's wonderful, but there is a chance that it would not be transmitted to the public. But if I have a certain picture in my mind, it must be something that has a connection with life, with something that I've experienced, not directly, but in general, in the perception of the world and creation.

What do you prefer, solo recitals or orchestra concerts? Why?
It's quite tricky to answer. I really enjoy playing with both the quartet and orchestra. But it's totally different. When I'm playing in a recital, this musical time, this contemplation, it belongs just to me, it's my tempo, it's my pulse, and it's my rhythm. When I'm playing with the orchestra, I must forget this thing, at least at the beginning. I must get the orchestra's pulse. I cannot change the pulsation of the ensemble. The orchestra is, nevertheless, a huge block, a living thing, which exists, has the right to exist in its rhythm, in its pulse. I have to accept this thing. It's a fact of life, a fact of the actual moment of life. If I don't accept this thing, nothing will come out. And I've understood all these once with the accumulation of experience. As young musicians, we often come and say: "Here's the score. Please, accompany me." And yet, the great works hadn't been composed in this manner, had they?

If you were 18 again, would you go the same way, that of the piano performance?
Perhaps, I would. You know... it's an endless road. I was talking to an old friend from Bucharest about the thing David Oistrakh had once told me: "I've recorded all Beethoven's sonatas thrice, and I never got bored." As a student, I didn't understand why he was talking about boredom. Now I see what he'd meant. And then, I said it myself: "You know, I've been playing the piano for so many years... but I haven't had enough yet." Yes, it's an endless thing.
Monica Isăcescu
Translated by Cotar Alexandr, Universitatea București,
Facultatea de Limbi și Literaturi Străine, MTTLC, anul I