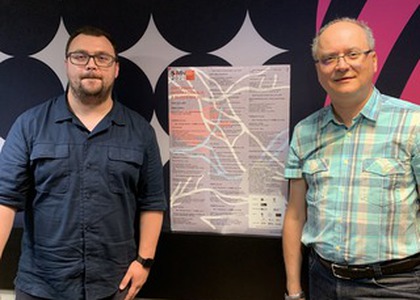 Composer Dan Dediu, Guest of the Week
Thursday, 22 July 2021 , ora 8.46

"International Week of New Music" - the most important event dedicated to Romanian contemporary music returns after a one year break caused by the pandemic with an edition full of vibrant surprises! Lucian Haralambie talked with composer Dan Dediu, artistic director of the Festival and the Guest of the Week at Perpetuum mobile about the series that will take place between June 20th-27th, 2021.

I welcome composer Dan Dediu, who is here now in the Radio Romania Musical studio!
Thank you for the invitation!

I am glad to see you in the studio after all this time. You are the artistic director of the International Week of New Music, the most important event dedicated to Romanian contemporary music. What are the coordinates of the 30th edition, which will start on Sunday, June 20th?
After a one year syncope - or contretemps, I don't know what I should call it - we braced up for the 30th edition of the International Week of New Music. Indeed, with fewer concerts, with fewer guests from abroad. These are the times and we have to be aware that if we want to organize something, we must do it within certain parameters. Even so, on the 20th of June - one month later, because, traditionally the International Week of New Music took place at the end of May - we managed to move it a month later and we hope everything will go as natural as possible considering the current conditions. There will be 11 concerts, a very consistent musicology symposium to which I will come back later, a book launch and plenty of first auditions of consecrated works belonging not only to illustrious names in the Romanian and universal music, but also to some young people aspiring to the title of composer.

I would like to stick to what you said earlier. The festival was traditionally held at the end of May. We tried as much as possible to keep the tradition with a preview concert…
Sure, a concert that stayed, it had been established a long time ago and it stayed. And here I want to thank Radio Romania and the Radio Music Bands for offering that concert with the Radio Chamber Orchestra - an exceptional concert, I would say. It had a tremendous resonance! A concert conducted by Valentin Doni with three great works of Romanian music, written by masters of the genre; a first audition of Doina Rotaru - Chimeras for violin and orchestra, a consecrated work by Adrian Iorgulescu - The Night Roundelay for clarinet, brass and percussion, and last but not least, Vivaldiana - a concert for flute, harpsichord and string orchestra written by the late maestro Ede Terenyi from Cluj. The soloists were Diana Moș on the violin, Ion Bogan Ștefănescu on the flute and Emil Vișinescu on the clarinet.

The concert will be broadcast during the festival…
That's right, it will be broadcast on facebook during the festival both by Radio Romania,and hopefully by the limited capacities of the festival, and we will take it over and distribute it further, because it resounded greatly and we expect to have as many visitors as possible on facebook.

We have moved on from the introductory part of the International Week of New Music 2021. What will actually be the first recital?
The festival will start in full force on Sunday, June 20th at the "George Enescu" Hall of the Bucharest National University of Music at 7PM, with the famous Trio Contraste which no longer needs presentation, with a consistent program of first auditions by Adrian Pop, Ghenadie Ciobanu and Aurel Stroe. So many years after the disappearance of master Stroe we managed to have a first audition in the festival, Humoresque pentatonique for solo piano, performed by Sorin Petrescu, the group's pianist. Apart from him, there will be Ion Bogdan Ștefănescu on the flute and Doru Roman on percussion. We also have works by Violeta Dinescu, Doina Rotaru, Peter Machajdik from the Czech Republic, Corneliu Dan Georgescu, and by Gabriel Mălăncioiu, our young colleague from Timișoara.

What are the conditions for participation in the concerts of the International Week of New Music?
As in every concert and performance, certain seats will be blocked, only 30% of the hall will be occupied, wearing a mask is mandatory and the temperature will be measured at the entrance, of course.

Aren't we talking about proof of vaccination?
No, especially since our audience has always been small, I could call it a niche audience, and we were always careful to scatter them in the hall. Besides, the hall of the conservatory is generous and these things can be done within controllable parameters.

(...)
We are talking about your creation because, also within the International Week of New Music, on Friday, June 25th at the Radio Hall, the work Word's first fear will be performed - a first absolute audition.
Well, it is during the International Week of New Music, not precisely within it. This concert represents the closing of the season of the National Radio Orchestra, and I will have the pleasure to present an opus that I wrote last year for 6-7 months, during the pandemic, in a rather uncertain state, and I believe it managed to get me back on track. After about a month or two of watching TV and the news every hour I was literally in a sort of mental stagnation, not to say psychotic. Ion Bogdan Ștefănescu had asked me to write a concerto for him and I started immediately - he wanted to perform it together with the Iași Philharmonic, it was a work for a large orchestra. And then I suddenly realised I didn't have what to write for, I didn't have any kind of orchestra to write for. So I chose a 9-instrument formula and I first wrote it in sketches, as a kind of reduction. I imagined the flute part from beginning to end so it wouldn't be changed. But then I thought that you can't perform with a string orchestra because not many people can get on the stage. I had received a phone call from Mihai Constantinescu, the artistic director of the Enescu Festival, who asked me to write a triple concerto for the opening of last year's Enescu Competition, in September. So in May he called to ask me if I can reorchestrate it for 30-35 persons maximum - as, due to the pandemic, it can't be performed with the orchestra for which I wrote the triple concerto. And I said I should try, for I only had online classes anyway. I put my thinking cap on and I reorchestrated it. It was performed, it was broadcast on TVR1, and it was very successful. It is a work written in such a manner so that in the end the public should burst in a round of applause, and this surely happened… a complete silence, as there was no one in the hall of the Athenaeum. I wasn't able to participate either, so I watched it at home on TV. Really, really sad! Meanwhile I was composing the Flute Concerto, which has a more special architecture, it's not head-to-tail. There are seven parts and each one bears a name and they represent seven stations through which my soul wandered during this pandemic… from right to left,from top to bottom, and from the front to the back… between desperation and optimism, I have eventually written the whole concerto for 9 instruments and flute. Then, thank God!, I had some time to relax and I started to reorchestrate. That's the composer's destiny, to reorchestrate the same works so that they can be performed in different formulas. And I reorchestrated, but this formula is not a complete reorchestration, because I have a string orchestra, 5 wind instruments - 2 horns, a trumpet, a clarinet and a flute - and three percussionists. The flute can be heard, it will be heard. I hope this work will have a positive destiny because I have invested a lot in it and it is a work that relies mostly on melody - on pure melody. These seven parts that I created - miniatures, each part lasts between 3 or 4 minutes - can be seen as episodes from a TV series, a season, a mini-series, and each theme that reappears represents some sort of character; and each part presents the story of a character, of a theme, but the whole concert is crossed by a core through which I organized the threat that erupts in the end. It is conceived as a kind of opera with clear and well-articulated characters, melodies, as I said. I wanted to emphasize the fact that the flute is a melodic instrument and all the melodies I have written are recognizable and can be hummed. What I mean is, someone who doesn't have any knowledge about it and listens to this concert will remain with some elements… earworms, what can we do!... and I hope these melodies will bring him back to the concert hall, or at least they will make him listen to this recording again.

I would like to touch on a topic you opened a little earlier. The students during the pandemic. I want to talk especially about the student composers. How was this period for them?
It wasn't easy for the students, and for all of us in general. It wasn't easy! It's not easy to teach, it's not easy for a high school or secondary school student to stay and listen to lessons for 7 hours. The dynamic of teaching has changed. I look at myself, I don't have any control of the screen. Many of them turn off their screens, you don't know if they listen to you or not, so you ask them… "So-and-so, tell me, what did I just say? Give me some feedback! What do you think?" Some listen to you, some don't… this is a different thing. As for the student composers, poor kids, they've been really hardworking! I have a lot of respect for what they did. At the same time, they need to be aware that this is just a part of the educational process. The musical educational process needs the professor's warmth. The professor isn't just an information dispatcher, as you can also find the information on the internet - two-three clicks and you can read it there - but it's not just that! This information has to be directed, it has an ethos, a feeling and many times the composition class can be done without words. I offer Tiberiu Olah as an example, who talked very little, but when you looked in his eyes and at the way he played the piano and how he looked into your eyes, you could understand him perfectly, in a way that went beyond reason, he transmitted with analytical clarity the emotion of that music. And you could feel it! And then you got goosebumps. That's what's missing! This magnetic human contact is absolutely mandatory in an act of quality musical education if we want to be competitive. Whether we want to stop at the level of Caragiale's pupil, where music comforts us in a pleasant way… It is good that it comforts us, but music is also a way of knowledge, an instrument of knowledge, of self-knowledge and of communication. We complain that the youth don't communicate anymore. Well, they have to get out of this somehow. I am very confident. For instance, I have 5 young composers in their first year - 18-19 years old - whom I teach the art of melodic construction. I see how they work. They are ambitious and very talented. Hats off! I am very optimistic.

Going back to the International Week of New Music, we are talking not only about concerts and recitals, but also about a book launch.
Yes. On Monday, at 4PM, in the lobby of the "George Enescu'' hall, before the concert given by the Archaeus Ensemble we launch maestro Nicolae Brânduș's book - Antimemoria, that came out at Eikon Publishing in Bucharest, 2021. The book comprises the entire compositional and aesthetic conception of maestro Nicolae Brânduș. It is also an opportunity to buy the book; the agents of the publishing house will be there. Maestro Alexandru Leahu, rector of the Bucharest University of Music will take the floor, as well as Mrs. Diana Moș, and I will preface this book launch.

There will also be a composition symposium within the series.
The symposium will take place online, on Zoom. Whoever wants to participate as a listener will be able to do it. The access codes, links and password will be posted on the facebook page of the festival. On Friday and Saturday - a symposium coordinated with great dedication by Mrs. Olguța Lupu. The symposium is called "2021 - Intersections in the Romanian composition". Here we have contributions from Bucharest, Cluj and Iași. I'll read a list: Laura Vasiliu, Valentina Sandu-Dediu, Cristian Bence-Muk, Diana Rotaru, Ciprian Pop, Vlad Văidean, Oana Andreica - on Friday, and on Saturday - Cezara Petrescu, Violeta Dinescu from Oldenburg, Diana Dembinski, Cornel Dan Georgescu from Berlin, Gabriel Banciu, Olguța Lupu, Ciprian Ion, Ecaterina Banciu and Bianca Țiplea Temeș. They will give speeches about other composers whom we outline at the celebration… or we commemorate some of them, such as Mihail Jora, on the occasion of his 130th birthday. And we also have a compositional duo, Miriam Marbe - Dan Constantinescu that would've turned 90 years old. Moreover, we celebrate three maestros of the Romanian music - Doina Rotaru, Adrian Iorgulescu and Adrian Pop - about whom these young musicologists have written many analytical and aesthetic contributions.

I would like to end this discussion by inviting those who are listening to us and who follow us on facebook to participate in the events of the International Week of New Music.
We look forward to meeting you, but respecting the conditions, with a mask and social distancing.

Thank you for the discussion!

Translated by Lica Alexandra,
University of Bucharest, Faculty of Foreign Languages and Literatures, MTTLC, year I
Corrected by Silvia Petrescu