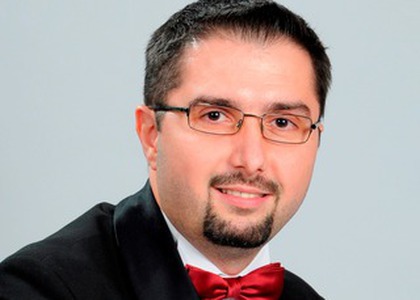 Interview with Ciprian Țuțu, Radio Academic Choir conductor
Tuesday, 22 November 2022 , ora 15.05

The Radio Academic Choir will perform the Petite messe solennelle by Gioachino Rossini on Wednesday, November 23rd, at the Radio Hal

Maestro Ciprian Țuțu, how would you describe Petite messe solennelle by Gioachino Rossini and what features might differ when performed by a choir?
It is a piece very much loved by choristers, which as I said in another interview is not performed very often at Romanian concerts. It's almost exclusively dedicated to coral ensembles, to soloist quartet and players, and it is uniquely performed with two pianos and also a harmonium piano. It is a piece that Rossini wrote at the end of his career; it is his last significant work. It was novel for Rossini to choose a religious theme, even though the musical style is not as religious, dare I say. We can see elements that belong to baroque music, to the form of the baroque composing style if we were to refer to the two significant run-aways or the Christe eleison part, where an excellent Renaissance polyphony can be seen. It is therefore a piece which beautifully and harmoniously combines various styles.

How did you choose the soloists?
The soloists are members of our choir; they are extremely good artists, who performed extraordinarily as soloists of the choir and the orchestra in other circumstances. We have soprano Olga Caia, alto soloist Grazziela Frangulea, tenor Nicolae Simonov and the young and promising bass player Cristian Ruja, whom we want to become an official member of our choir.

What other concerts are you planning this season?
We will hold many concerts this season. If we had a great brahmasian moment with maestro Moldoveanu at the beginning of this season, playing Brahms's Song of Destiny, we have also been preparing for the concert I spoke about earlier. In December we will perform Gloria in D Major, alongside the Radio Chamber Orchestra. We will also have a choir at the concert, conducted by Badea, on December 9th. Finally, we are preparing the Christmas concert, which will be held on December 15th.
Interview by Ana Sireteanu
Translated by Denisa Stanciu,
University of Bucharest, Faculty of Foreign Languages and Literatures, MTTLC, year I
Corrected by Silvia Petrescu