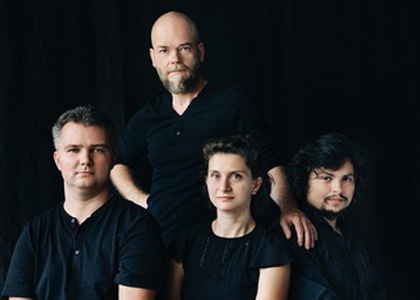 Interview with violist Traian Boală, member of the Arcadia Quartet
Wednesday, 29 March 2023 , ora 13.08

Continuing its series of educational concerts, the Arcadia Quartet will perform tomorrow, March 28th, from 5:00 p.m., a recital for the students of the "Dinu Lipatti" Art High School in Bucharest. On this occasion, the violist Traian Boală, a member of the aforementioned ensemble, talked with our colleague Ioana Țintea.

How did the series of educational concerts performed by the "Arcadia" Quartet take shape?
The idea of educational concerts and our actions in general in this area was quite clear to us from the very beginning. It took shape pretty quickly. We realized how important it is to share all the information we have accumulated throughout our careers with those who want to make music, but we approached this aspect in a broader sense, trying to share our knowledge with all children or to future consumers of classical music or cult music, because we are convinced that the sense of culture in our society is an extremely important aspect.

The event on March 28th will bring to the fore two quartets created by Joseph Haydn and Ludwig van Beethoven. Why did you choose these works to present to the students of the "Dinu Lipatti" National School of Arts?
When you want to expose information that is large and complex, it is very wise to start from the beginning, with chapter I, because in Haydn everything was born, and in Beethoven it began to take shape in a more complex and in a more varied language. But both of us being part of musical classicism, we thought it was the best idea to start there, to present to the students our vision of classicism, the way we approach it, what are the elements of language, of articulation. That concert probably won't be a literal educational concert, in the sense that we will talk a lot, as it usually happens, because they already have a lot of information about what we do.
I will primarily want to focus in my speech on the idea of the importance of chamber music in their education.

And how will the educational side be carried out?
I will most likely start with a speech about our work broadly and briefly, and then, as I just said, the way we see the role of chamber music in the education and development of musicians, as an absolute complexity and an overwhelming importance for everyone. One thing I notice is not fully realized and I think it is very important to make this clear.
Then we will play the two quartets.

After the recital on March 28th, what's next on the agenda of the Arcadia Quartet?
Holidays. Now we're on tour in the UK, which comes after quite a long period of time where we've been working hard to build up a new repertoire that we're currently touring and will continue to tour in the future. Important projects are coming up, especially in the summer. We have a number of concerts, but the most important I would mention is our chamber music workshop - a masterclass that we are already organizing for the third time. This year we were lucky enough to get more consistent funding and we can develop it a bit. We have invited the Artis Quartet from Vienna to perform a concert; we will also invite a young quartet from abroad (it has not yet been decided exactly who it will be). We focus a lot around this time in August; it will take place between August 8th and 16th . In any case, we are not bored.

Photo by Raluca Ciornea
Interview by Ioana Țintea
Translated by Cosmin-Ionuț Petriea,
University of Bucharest, Faculty of Foreign Languages and Literatures, MTTLC, year I
Corrected by Silvia Petrescu