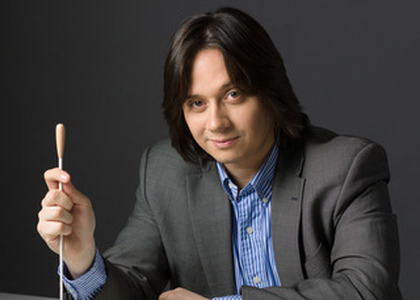 Conductor Gabriel Bebeșelea – this week's guest at Perpetuum Mobile, having a discussion with Gabriel Marica
Monday, 20 November 2023 , ora 9.55

This evening's guest is conductor Gabriel Bebeșelea. Good evening! Welcome back on the wave lengths of Radio România Muzical, Gabriel!
Good evening! Thank you for inviting me.

If I recall well, your most recent interview at Radio România Muzical happened at the end of September, before the season opening of the "Banatul" Philharmonic in Timișoara,with a very interesting piece, rarely interpreted - Schoenberg's Guerre-Lieder - a monumental piece with impressive performances. And, before everything else, I would like to ask you - what was it like for you, such an experience, as a conductor?
Performing Guerre-Lieder is, of course, not only a musical experience; I like to remind myself that it is a generational experience, since it is not often that you are faced with this absolutely masterful, monumental piece, both as a musician, and as a part of an audience. This project, held in Timișoara, "The European Capital of Culture", reunited two orchestras, six choruses, many vocal soloists… about 450, in order to perform this absolutely spectacular and emotional piece of Arnold Schoenberg. Before Timișoara, we also performed it in Gera, Germany,during two concerts.

You are the main conductor of philharmonics from Bucharest and Cluj-Napoca; and starting with this year -a resident conductor of the "Banatul" Philharmonic in Timișoara… in this time period, "The European Capital of Culture". Could we say that you are more focused on Timișoara right now?
Yes, we could, since this project, "The European Capital of Culture" is similar to an important business card of Romania.

I'm recalling my statement at the beginning of the interview that this week, a "Musica Ricercata" festival is starting, reaching opus 6. It moved to The European Capital of Culture. I would like you to tell us more about this festival, a festival which has two editions this year- during the summer (which has been in Sibiu) and now, in Timișoara.
Indeed, from one European capital of culture to another. From Sibiu to Timișoara, together with my colleagues, we began this series five years ago. The name "Musica Ricercata", which means "researched music", is actually the title of one of Gyorgy Ligeti's pieces. He was an absolutely brilliant composer, one of the greatest composers from the second half of the 20th century, born exactly 100 years ago inTârnăveni, not far from Sibiu. This is why we carried out our work… or better said, we had our main headquarters in Sibiu. We travelled a lot with the Musica Ricercata ensemble and the Musica Ricercata projects, and not only in Romania, but in the end, Sibiu was the place where we gathered all of our forces.
And here we are, transferring the entire project to Timișoara; and it is a special edition since everything works on vintage instruments. There is clear reasoning behind all this. We started with the slogan of the European capital of culture itself, which is "Shine your light! Light up your city!" and we thought that it would be a great idea to use this story, of Timișoara's illumination, which referred to street lighting… what would happen if we were to move everything back a century, a century and a half, and to reference the metaphoric illumination?! And so, we created a festival edition thanks to the "Banatul" Philharmonic, which I am so grateful to. It is called "Lux Timisiensis" or "Timișoara's Light" and it is about the Enlightenment. We started from the premise that in 1716, when Timișoara was conquered by Eugene of Savoy, from the hands of the Ottoman Empire, becoming a part of the Austrian Empire, Timișoara had immediately entered the Enlightenment Period. Everything that occurs during the almost two festival weeks, all the events- they are linked to the Enlightenment or they present composers that took their inspiration from the Enlightenment, or composers which were precursors of the musical Enlightenment and so on.

We are talking about Timșoara during the Austro-Hungarian Empire, but at the same time, about something before 1716, since you also bring out the Ottoman inspiration.
Exactly! We started from this extremely important year to the city's history, but we also wanted to present an audio scan of what happened before the presence of the Austrian Empire in the area. And so, we are going to bring the Derya Turkan Ensemble from Istanbul, which will perform the music of Cantemir, since we also find ourselves in the year of Cantemir - the one who, besides being an extraordinary ruler and historian, a man of letters, he was also the revolutionary of modern Ottoman musical entries.

And because you mentioned the ensemble from Instanbul, I would like you to tell us about some of the artists that will perform during this edition of "Musica Ricercata op.6".
On Thursday, 16th of November, we open the festival with an extraordinary event. The Musica Ricercata Ensemble, with musicians from all over Europe, will have as a soloist the great countertenor, Valer Săbăduș, a countertenor originally from Romania, who rarely performs in Romania. I am so glad that we were able to bring this great name of the Baroque Opera within a concert that is called Illuminatio, with composers who are synonymous with the Enlightenment.
After that, we are going to hold a Baroque violin workshop with Elicia Silverstein, one of the most important interpreters of Baroque violin, who will perform on the 18th and 19th of November, together with Marco Mencoboni, Heinrich Biber's Rosary Sonatasin all their entirety. It is an extremely important moment since these sonatas are rarely performed in all their entirety. Moreover, the Timișoara audience will have the occasion to listen to them in two churches, Piarists' Church and St. Ecaterina Church.
We will also have an extraordinary recital of the Derya Turkan Ensemble, which I mentioned earlier, dedicated to Cantemir's music.
To keep our tradition initiated in Sibiu, where we would also invite men of letters, we are going to have Radu Vancu, a poet from Sibiu, discuss about the Timișoara owls and lights in the "Două bufnițe" bookstore. Although, the discussion will focus more on the Enlightenment and the way it changed literature nuances within this geographic area.
Next, there will be a concert - a must see, if I might add. I'm talking about the Academy of Ancient Music from London, one of the most popular ensembles of old music. The ensemble comes together with its musical director, Laurence Cummings, in a concert called Music for anempress, which references the Empress Maria Theresa. During her reign, Timișoara developed significantly. One of the interpreted composers is Michael Haydn. We are going to find him in many concert programs, since some of these are held in the Romano-Catholic Dome, which has been sanctified on Michael Haydn's music, with The Trinity Missa[1]composed at the command of Maria Theresain 1754.
Moreover, we will have a workshop for musicalmanuscript transcription that I will hold at the Music Faculty of the West University.
And, finally, a concert - again, a must-see. I'm talking about Le Concert Spirituelfrom Paris, together with Herve Niquet - their founder and musical director. Again, music by Mozart and the Haydn brothers, referencing Michael Haydn's music once more, the one who had been a musical director in Oradea for two years, and the one who wrote the Trinity Missa for Timișoara and the sanctification of the Dome that this concert is actually taking place in.

Therefore, it looks like between the 16th and 30th of November, there is going to be a series of unique events. I think that Bega's citizens are glad to have the "Musica Ricercata" festival at their doorstep. Besides that, I would like to ask you, for you - the conductor Gabriel Bebeșelea, what is next? If you could think beyond the 30th of November, what can you tell us about your schedule, as a conductor?
The festival is pretty intense, so it is a little bit difficult to say… there's an intense period coming up. As an extension to the festival, next up is a project that is part of the finale of "The European Capital of Culture". It is very close to my soul, a requiem that I scheduled for the 16th of December, where seven composers, from the seven countries that had revolutions in 1989, composed a part each. After that, I will hold a concert together with the great violinist, Maxim Vengerov. Next up, there are concerts with BochumerSymphoniker. I will be in Amsterdam, at Concertgebouw. I will also go to Berlin… And so, there is a pretty intense period coming upfor me, but also for my colleagues from the "George Enescu" Philharmonic. We are going to hold extremely interesting concerts for the Bucharest audience.

Gabriel Bebeșelea, thank you for your presence here! Radio România Muzical will further advertise the festival events throughout its duration. I wish you and the festival great success!
Thank you very much!

Photo source: Ionuț Macri
[1]
Missa in honorem Sanctissimae Trinitatis
Interview by Gabriel Marica
Translated by Adelina-Maria Mănăilescu,
University of Bucharest, Faculty of Foreign Languages and Literatures, MTTLC, year II
Corrected by Silvia Petrescu